Welcome to Centroplex Sweeping!
Centrally Located in Waco, Texas and
Central to All of Your Exterior Maintenance Needs.
Centroplex Sweeping is a locally owned and operated pavement sweeping service based in Waco, Texas. Our market area includes: Temple, Texas; Killeen, Texas; and Hillsboro, Texas.
We have over twenty-five years experience in the pavement sweeping industry and use the most modern and advanced sweeping technology that is available. Our goal is to provide you with a level of service that is 'second to none.'
---
Centroplex Sweeping Chosen as WorldSweeper.com's
Featured Contractor for March 2011!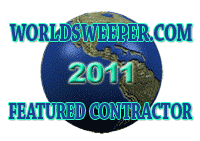 Centroplex is proud to have been chosen as one of only 12 WorldSweeper-Featured Contractors in the U.S. per year.
For details, we invite you to check out WorldSweeper.com's story on Centroplex, which includes an audio interview with Centroplex founder, Alfred Lopez.
---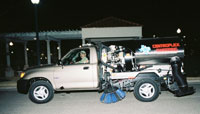 When you want first-class results and a clean parking or other paved areas you can be proud of, Centroplex Sweeping is the contractor to choose. Our customers can tell you that we live our slogan, which is to provide "The next generation in pavement cleaning"SM each and every time we're on your property.
Please take a look around our website, download our information handouts and collect up your questions to ask when you call. After almost thirty years of providing sweeping industry excellence, we're sure we can provide you with the answers – and the quality level of service – you need and deserve.
There are many reasons why a regularly scheduled program of power sweeping is one of the most cost-effective things you can do for your property and your tenants. For more information on the many reasons to have your property's pavement regularly swept – other than because of the overall beautification sweeping provides – we invite you to take a look at our PDF handout on this topic.
Sweeping Services
We provide power sweeping, as well as related services, for a wide range of commercial properties. Typical customers include:
Churches
Roadways
Malls and shopping centers
Parking areas
Subdivisions
Business properties
Factory parking Areas
Sports stadiums
Low clearance parking garages (low as 6'4")
Other Services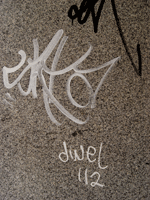 In addition to power sweeping, we also provide our commercial customers with a variety of additional services. These include:
Power washing
Lawn maintenance
Window cleaning
Graffiti removal
Day portering
Large item removal
Tenant cleanout
If you need something you do not see on the list please give us a call or send an email. Chances are, we will be able to refer you to a qualified, experienced contractor in that service area.

We offer service frequencies and value-added service programs to suit each of our customer's exact needs. Your satisfaction is always our top priority.

Although our offices are based in Waco, Texas, you are in our service area if you are in any of the following:
Temple, Texas;
Killeen, Texas;
Hillsboro, Texas