Centroplex Sweeping
Central Texas' Power Sweeping Professionals
You can count on the pros at Centroplex Sweeping
to get the job done right each and every time!
There are many reasons why a regularly scheduled program of power sweeping is one of the most cost-effective things you can do for your property and your tenants.

For more information on the many reasons to have your property's pavement regularly swept – other than because of the overall beautification sweeping provides – we invite you to take a look at our PDF handout on this topic.
Centroplex Sweeping takes pride in servicing your property and we understand what you expect a level of cleanliness that's 'second-to-none.' That is our goal, as well. We want you to sleep well knowing your property is being taken care of day and night. We also know that out of town managers need a service that is willing to be their 'eyes and ears' when they are away.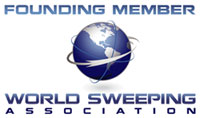 Our World Sweeping Association membership allows Centroplex Sweeping to provide the latest in service methods and technology. We offer a handout that covers this information. Please click here or on the WSA logo to the left to download this information as a PDF file.
We will watch your property and notify you of any light outages, pavement defects, and after hours loitering. We can take digital photographs of your property and send them to you via e-mail. Centroplex works closely with police and customer security firms to notify them when anything goes awry. Your protection is important to us and you will find the best company you can hire to maintain your property is Centroplex Sweeping.
We Provide a Variety of Sweeping Services
We provide power sweeping, as well as related services, for a wide range of commercial properties. Typical customers include:
Churches
Roadways
Malls and shopping centers
Parking areas
Subdivisions
Business properties
Factory parking Areas
Sports stadiums
Low clearance parking garages (low as 6'4")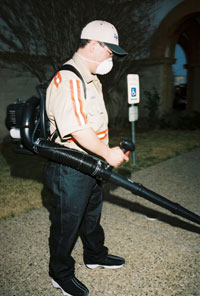 Our typical sweeping routine for clients includes all parking and ingress/egress areas. This keeps your property looking its best and creates an inviting, safer environment for your clients. Sweeping-related services we can provide include:
Handpicking any litter from shrubbery and landscaping.
Removing any weeds growing through cracks in pavement.
Emptying trash containers on the premises.
Cleaning around dumpster and dock areas.
Hauling away any debris dumped onto your property.
Air Sweeping Services
Our Masco air sweepers use advanced technology to keep your parking area sparkling. Their air sweepers remove both unsightly litter and the fine particles that contribute to inside floor wear and slip-and-fall events. The high performance Masco sweepers, which have been refined from over 30 years of manufacturing experience, provide efficiency that outperforms other sweeping models.
On a typical customer's account, sidewalks and walkways are blown free of litter prior to sweeping using a backpack power blower. Then, all parking surfaces are swept of litter by our self-contained vacuum sweepers, which are truck-mounted. Our sweepers are low noise and low dust, which keeps the area attractive and safe for your customers. Our sweepers, along with our experienced operators and support teams, can handle virtually any type of sweeping tasks.
Broom Sweeping Services
Sweeping via mechanical broom-based machines is required for extremely heavy debris situations. When large amounts of gravel or sand are on your parking lot, for example, or if you're in the final stages of construction clean up, you may need the extra removal power of a broom machine. Our broom sweeper consists of an eight foot, poly-steel bristle broom that spins along the pavement in order to push heavy debris to a central location, from which it is then removed. When the going gets tough – the Centroplex pros get to sweeping!
Our Service Philosophy
We offer an integrated, documented Service Philosophy that's designed to provide total customer satisfaction with every service we offer. Below are listed the four primary components of our written Service Philosophy. For complete details, use the download button shown to view the PDF that provides more details.

Enhance the appearance of your premises.
Help reduce wear and tear of your parking surface by removing accumulated sand and grit.
Reduce your exposure to liability by removing hazardous objects such as broken glass and rusty nails from the parking lot surface.
Keep customers updated on current and projected property needs so as to minimize overall CAM costs.
Centroplex Sweeping is very experienced in all types of pavement sweeping, from parking areas to the inside of warehouses and parking garages. We also offer a wide variety of additional services.
Please let us know how we may assist you by requesting a FREE professional assessment from our management team. We'll be glad to help you in any way we can.