Centroplex Sweeping
Part of the Central Texas Community
Individual commitment to a group effort – that is what makes a team work, a company work, a society work, a civilization work.
– Vince Lombardi
Centroplex Sweeping is owned and operated by a family that believes in giving back to the community.
In addition to our sponsorship of the Central Texas Airshow in Temple, Texas, we have also sponsored a wide variety of other events. These have included:
Area little league teams,
Waco and Bellmead Christmas Parades,
Heart of Texas Fair Parade,
Waco Citizens Police Academy,
Citizens on Patrol (COP) Lock-Up for M.D.A.
CareNet Pregnancy Center of Central Texas,
Habitat for Humanity,
Local park 'adoptions' like Waco's Buena Vista Park.
---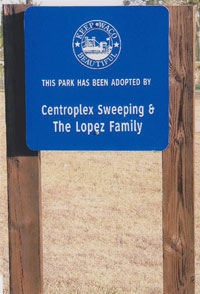 Centroplex Sweeping is a part of the City of Waco's Adopt-A-Park program. We are proud of our local area and appreciate the beauty and recreational opportunities it offers.
---

The professionalism of Alfred Lopez, the owner of Centroplex Sweeping, has gained national recognition.

Centroplex Sweeping has been featured on the topic of professionalism and safety by one of America's largest pavement-related publication, PAVEMENT Maintenance & Reconstruction magazine. We invite you to take a look at the article, which is archived at the magazine's website.
We believe that, as a community-oriented business, we should get involved to bring each individual in our local community closer and participate actively in supporting our Central Texas home. As you can see from the logos in the left side column, we are proud to be members of the World Sweeping Association, the North American Power Sweeping Association, the 1-800-SWEEPER Nationwide Service Network and the Better Business Bureau.
If you have questions about Centroplex Sweeping, or if you would like to have your community organization considered in our sponsorship programs, please let us know. Send an email to info@centroplexsweeping.com or call 254.716.9441. We'll help if we can.