Centroplex Sweeping
Professionals at More Than Power Sweeping
In addition to all types of power sweeping, Centroplex offers a wide variety of other services.
When it comes to most any property maintenance or improvement task, Centroplex Sweeping is your full-service, 'one call does it all' company. As our customers know, our professional service team can be counted on to provide outstanding results. Take a look our many service areas and let us know how we might best serve your needs.
Power/Pressure Washing
We have equipment that allows us to tackle the toughest hard surface cleaning needs. Whether you need walls or flat surfaces cleaned, our team will provide the expertise you require. We provide cleaning for: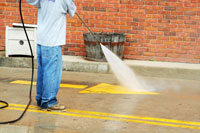 Graffiti
Sidewalks
Walls and Lattices
Dumpsters and Loading Docks
Equipment
Vehicles and Carts
Bike Paths
Storefronts
The project where you need cleaning!
Window Cleaning
We can establish window cleaning services on an as-needed or regularly scheduled basis. Keep your glass gleaming and your customers smiling!
Foreign Object Removal Service

As any seasoned property manager can attest, some folks think a commercial property is an ideal dumping ground. When any types of foreign objects are left on the ground, it is both unsightly for customers and an invitation for more dumping. Whenever one of your employees spots an unwanted item that's been dumped just give us a call. Chances are we can remove the offending item(s) right away. We'll always get them removed within 24 hours.
Day Porter Services
A number of our sweeping customers find it makes sense to have one of our employees visit during the day to make sure the property looks as it should. They will handle any messes before much time elapses. In addition, they can clean around your loading docks and dumpster areas, or any other places not accessible to a sweeper at night. Many have found our day porter to be a very cost-effective service. True peace of mind.
Tenant Cleanout/Rental Readiness
When its out with the old, you need to get those former spaces ready for your new tenants as quickly as possible. We can handle it. Pre-schedule our tenant cleanout services ahead or, when you have an unexpected exit, just give us a call. We can take it from there, including arranging for your locks to be changed for security for both you and the new occupant.
Lawn Mowing and Maintenance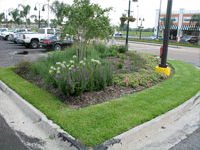 We specialize in mowing, weedeating, and keeping areas manicured, as well as clearing tall twigs, grass and weeds surrounding your open lots by using a tractor shredder. You will find that our mower team is capable, thorough and cost-effective.
Centroplex Sweeping also provides acreage shredding and general lawn maintenance. Local City regulations are becoming increasingly restrictive, and we keep up with current legislation. We can schedule to conform to your needs, as well as coordinate with our sweepers for cleanup of any debris that necessarily needs to be on your pavement. We also know how to keep your grassy areas looking as good as possible throughout the year. You'll find we are just a phone call away.
Janitorial Services
Everyone is more satisfied in a space that is kept clean and tidy on an ongoing basis. It takes a professional to see what needs to be done on an ongoing and periodic basis to make sure your image is kept as professional as possible. We can handle it.
In addition to power sweeping, Centroplex Sweeping is very knowledgable and experienced in all of the service areas listed above. Plus, we may be able to assist in other areas, as well, through our local network of vetted contractors. Please let us know how we may assist you by sending us an email or give us a call to 254.716.9441.